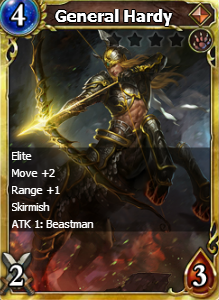 Race: Beast
Rank: Legendary
| * | Atk | HP | Skills | | | |
| --- | --- | --- | --- | --- | --- | --- |
| 0 | 2 | 3 | Move+2 | ATK 1: Beastman | Range+1 | Skirmish |
| 1 | 2 | 6 | Move+2 | ATK 1: Beastman | Range+1 | Skirmish |
| 2 | 3 | 6 | Move+2 | ATK 1: Beastman | Range+1 | Skirmish |
| 3 | 3 | 6 | Move+2 | ATK 2: Beastman | Range+1 | Skirmish |
| 4 | 3 | 9 | Move+2 | ATK 2: Beastman | Range+1 | Skirmish |
| 5 | 3 | 9 | Move+2 | ATK 3: Beastman | Range+1 | Skirmish |
VIP 4 reward, Archive Prize(120), Stage: 9-9(shards), Standard Pack, Deluxe Pack
Strategy
Edit
You use this card in Beastman decks. You really won't have to defend it all that much since it won't get in too close because of the range and skirmish, but it won't be a useless body either since it can still attack from far away.
August 5, 2015: Now an Archive Prize
Ad blocker interference detected!
Wikia is a free-to-use site that makes money from advertising. We have a modified experience for viewers using ad blockers

Wikia is not accessible if you've made further modifications. Remove the custom ad blocker rule(s) and the page will load as expected.