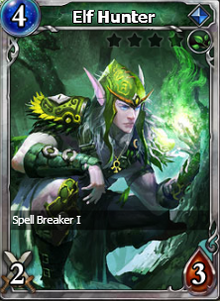 Race: Elf
Rank: Rare
| * | Attack | Health | Skills |
| --- | --- | --- | --- |
| 0* | 2 | 3 | Spell Breaker II |
| 1* | 3 | 4 | Spell Breaker II |
| 2* | 3 | 7 | Spell Breaker II |
| 3* | 3 | 8 | Spell Breaker III |
| 4* | 4 | 8 | Spell Breaker III |
| 5* | 4 | 10 | Spell Breaker IV |
Elf Pack, Elite Stages: 3-4, 10-5, 12-2
Strategy
Edit
Nothing here yet!
June 17, 2015: Released[1]
June 17, 2015: Card Exchange II
June 17, 2015: Elf Marksman used to be named Elf Hunter.
August 27, 2015: Name changed from Elf Hunter to Elf Stalker
Ad blocker interference detected!
Wikia is a free-to-use site that makes money from advertising. We have a modified experience for viewers using ad blockers

Wikia is not accessible if you've made further modifications. Remove the custom ad blocker rule(s) and the page will load as expected.