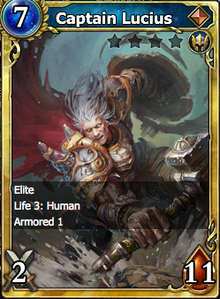 Race: Human
Rank: Legendary
| | Attack | Hp | Skills | | |
| --- | --- | --- | --- | --- | --- |
| 0* | 2 | 11 | Armored 1 | Life 3: Human | Elite |
| 1* | 2 | 12 | Armored 1 | Life 6: Human | Elite |
| 2* | 3 | 14 | Armored 1 | Life 6: Human | Elite |
| 3* | 3 | 14 | Armored 2 | Life 9: Human | Elite |
| 4* | 3 | 20 | Armored 2 | Life 9: Human | Elite |
| 5* | 3 | 20 | Armored 3 | Life 12: Human | Elite |
Archive Prize(120), Stage: 7-8(Shards), 15-10, Standard Pack, Deluxe Pack, Human Pack, Day 7 Login Reward for new players,
Strategy
Edit
Captain Lucius is mainly known for buffing all humans in the battlefield with extra lives. His armor is not always pivotal in battle. He is a very important card for human decks.
August 5, 2015: Now an Archive Prize
Ad blocker interference detected!
Wikia is a free-to-use site that makes money from advertising. We have a modified experience for viewers using ad blockers

Wikia is not accessible if you've made further modifications. Remove the custom ad blocker rule(s) and the page will load as expected.